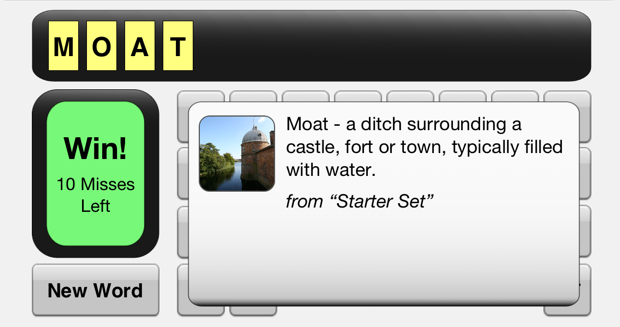 Rescue Mission Software is pleased to announce the release of Hangman Challenge 1.5 on August 8, 2013.
This version features four new word sets:
U.S. States and Capitals, a word set from Natalie Chithelen.
Dr. Bruce's Medical Terms, a word set from Dr. Bruce Chou.
Dr. Bruce's Stumpers, a word set from Dr. Bruce Chou.
Common Household Words, a Spanish-language word set from Zahid Gómez.  The words for this word set are in Spanish, the definitions are in English.
In addition to the new words, Natalie Chithelen has upgraded the definitions for the starter set with more than 50 new illustrative graphics.
The game now has more than 1,000 words and definitions, with illustrative graphics for 400 of the definitions.
Please click the following link to get Hangman Challenge from the Apple App Store.